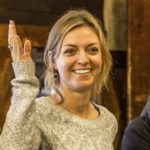 Liz Moore
Training and Program Design
Liz joined our High 5 team in early 2013 having worked in Adventure Education at a variety of school programs along the east coast and at a university in Maryland. With a background in Anthropology and Geography, once Liz discovered Adventure Education she exclaimed, "I had finally found my true passion. A way to bring my studies of people and our world into an educational setting that is not only effective, but exciting".
Her travels and studies around the world give her a unique perspective on human dynamics. Liz brings high energy and devotion to the field. She enjoys the diversity of work High 5 brings, from 5th graders, to school faculty, to professional sports teams, and believes the challenge her work offers is a large reason she has continued with it.
Liz has presented at our High 5 symposium, and at AEE on practicing team-building in foreign lands. She is a budding contributor to our blog and now a strong voice within our training team. You'll find Liz equally excited to play in a field with 5th graders and engage in deep discussion about the philosophy of adventure education and why it is so important.