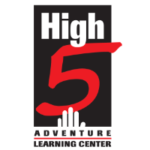 Website High 5 Adventure Learning Center
  HIGH 5 is GROWING!
High 5 Adventure Learning Center is recognized worldwide for its brand of experiential education and adventure learning. Some of the world's most respected schools, colleges, sports teams, institutions, and businesses turn to us to discover their team's potential. Formed as an educational non-profit organization, High 5 helps individuals,  schools, and communities use experiential education as a catalyst for positive change. Connect, empower, lead….be the example!
Job Description
High 5 is seeking a passionate, dedicated and experienced adventure trainer/educator who can connect and empower participants in a trusting and supportive environment. We are looking for someone who is excited to develop quality experiential education programs and trainings that will change people's lives.  This is a full-time position on our Training Team supporting our camp, school, therapeutic, outdoor program, and business clients.
Responsibilities include, but are not limited to:
Design and deliver all types of High 5 experiential programs & professional trainings in a multitude of client settings and at our office site in Brattleboro, VT.

Thoughtfully nurture leadership qualities and skills in people via our Edge of Leadership programs and adult educator training.

Cultivate and maintain long-term client relationships through ongoing customer outreach, program development, and support.

Assist in all aspects of High 5's training department including various office tasks, administrative paperwork, and record keeping.

General customer service, phone, and email engagement.

Establish and maintain a presence for High 5 by being active in the field at large through conference attendance, presentations, and exhibiting as well as service through committee work for various adventure and experiential education organizations (AEE, ACCT, ACA, AHPERD, etc.).
Skills, Abilities & Qualifications, we are looking for in a candidate:
Experience working with youth and adults and a desire to build strong connections, communities, and leaders.

Willingness and desire to bring energy and adaptability to High 5 and its mission, style, and team culture.

Preferred qualifications: Level 2 trained and /or Level 2 Certification Trainer/Tester in accordance with QCP standards of the Association for Challenge Course Technology (ACCT).

Bachelor's degree or relevant professional experience.

Openness to learn, question, take risks, and reflect for program & personal growth. 

Strong written and oral communication skills and computer technology skills.

Willingness to live within a commutable distance to High 5. Flexibility to travel significantly within the Northeastern US.
 Salary and Benefits: Salary Range: $37,500 – $56,000 depending on experience, skills, and education.  In addition, we offer a generous benefits package that reflects the value we place on the well-being of our employees and their families. 30 days C.T.O. plus 19 days paid holidays. Relocation expenses are negotiable and a state-funded relocation program is available in Vermont.
To Apply: Please email a cover letter, resume and challenge course portfolio to hiring@high5adventure.org  with "Full Time Trainer" as the subject line.  No phone calls, please.
High 5 is committed to inclusivity. We recognize that growing our team to include people from all backgrounds, identities, perspectives makes our work more effective as we strive to strengthen the communities in which we work. We encourage any and all applicants with the above qualifications to apply.