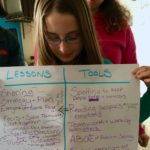 Website high5adventure High 5 Adventure Learning
High 5 Adventure Learning Center is an educational non­profit organization that helps individuals, schools, and communities use experiential and adventure education as a catalyst for positive change. Our Edge of Leadership (EOL) is designed to support the social, emotional and leadership development of students and educators in participating school communities. Program evaluation is demonstrating that EOL is impacting and improving school culture and creating opportunities for teachers and students to build stronger connections within the classroom.
We are excited to be expanding our team as Edge of Leadership continues to grow and develop. This is a full-time position in which the right candidate will implement our direct service programs in classrooms, on our campus, and beyond! We are prioritizing candidates who can demonstrate a commitment and passion that will align with the environment and approach of the EOL team.
Roles and Responsibilities:
Learn and embody EOL's model and approach in all direct service work.

Facilitate student groups' multi-year experience with EOL approach and program sequence.

Communicate and coordinate with classroom teachers and school administration as programs evolve.

Assist in the further development of Edge of Leadership approach in elementary, middle school, and high schools.

Assist with administrative tasks and projects as needed.
Qualifications:
A willingness and desire to bring energy and adaptability to High 5 and its mission, style, and team culture, and to be fueled by the work and mission of this project.

The ability to thrive in both a collaborative and independent work setting.

The ability to adapt quickly to a dynamic learning environment and make quick decisions, including improvisation. 

The willingness and skill to nurture a positive environment in which students and staff are free to speak their minds, feel respected, and learn. 

Bachelor's Degree or higher and/or a background in education.

Adventure education and/or challenge course facilitation experience a plus, but not necessary.
Salary and Benefits: Salary will be commensurate with your education and experience. In addition, we offer a generous benefits package that reflects the value we place on the well-being of our employees and their families.
Application Instructions: Interested candidates are asked to submit a cover letter and resume to hiring@high5adventure.org. No phone calls, please. Applications will be reviewed immediately and will continue until the position is filled.
High 5 is committed to inclusivity. We recognize that growing our team to include people from all backgrounds, identities, perspectives, and skills makes our work more effective as we strive to strengthen the communities we work with. We encourage any and all applicants with the above qualifications to apply.