In an effort to "walk the talk," we recently created a message for folks attending workshops here at High 5 entitled:
How We Gather.
We send this out as part of our registration materials in an effort to set the stage for their time with us and prime their readiness to be fully present. Here is that message in its entirety…
A Word About How We Gather @ High 5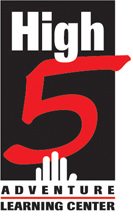 Our programs bring balance to our hurried hi-tech world and allow people the opportunity to connect as individuals. We often hear from our participants that "time stopped" for them for a few days as they had a chance to be fully present with others. There are many reasons for this phenomenon, for many, it's the novelty of adventure learning and the opportunity to learn with other professionals; while others find our setting truly peaceful. One special feature of our environment that fosters connection is we ask that folks step away from their cell phone a bit, especially during meal times when there's an opportunity to have a family-style meal with uninterrupted conversations. For many, having uninterrupted time to connect is as novel as some of the adventuresome activities we engage with on the challenge course. We find that it's worth it. We ask that you step into the hallway or outside if you have to make a call or check a message to help preserve our mealtime environment. One of our favorite quotes from a participant was …"I can't believe what it was like to really connect with people and not be interrupted." We invite you to be fully present and fully enjoy a remarkable experience at High 5.