Are You Ready To Up Your Facilitation Game?
Co-written By Lisa Hunt, Jim Grout & Former High 5 Trainer, Chris Ortiz
How have you grown the most as a facilitator, outside of trial by fire? Recently, I attended a facilitator round table hosted by facilitator, creator and writer, Meg Bolger, and the partner conversation prompt offered above by Meg gave many of us in the group pause, based on the criteria that we were asked to look for sources of growth (as a facilitator) outside of direct experience and experimentation. There does seem to be a common understanding that, while facilitation tips, leadership theory, excellent mentorship, and so forth, are deeply important, nothing can substitute for direct experience.
The Impact of Direct Experience & Practice
So, what is it that direct experience in facilitation gives us that we truly can't get anywhere else? We get to see and hear the impact of our voice, our choices, and our presence. What seems like it could be a great plan on paper can transpire very differently in real-time, and with reflection and documentation, that kind of learning is priceless.
I have found that there is an essential piece that fits into the facilitation skills puzzle, somewhere between following a list of fundamental principles (see the 11 point list below) and having abundant opportunities to practice. And the piece is this: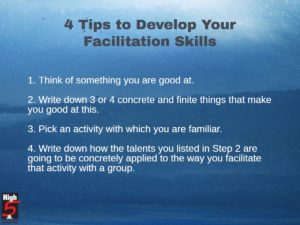 Maybe there is a hobby you thrive at, perhaps you are great at coaching baseball. The idea is to re-think the notion that there is a need for a certain type of facilitator personality that comes to life when you are leading a group. For starters, here's a list of 4 Tips to help you hone your facilitation skills immediately.
I spent a few years as a rookie facilitator trying to have a more goofy, fun, and charismatic presence. Based on the personalities of some of my most important mentors, I just assumed that I had to be that way too. When I could bring my life skills into my facilitation work, most notably my ability to be patient and my interest in experimentation, I began to feel not only more comfortable in my role as a facilitator, but more effective.
Once you've gone through an exercise such as the one we laid out in our book "Tinker", then developing a set of guidelines is a good next step. Until you have the depth of experience to develop your own facilitation style, start with some principles from others, and see what fits. Jim Grout agrees, and shares some thoughts about mentorship and highlights the career of a High 5 colleague next…
Find a Mentor
One particular facilitator who helped guide and shape the facilitation style and techniques of many High 5 trainers is Nicki Hall. Over my 45+ years in the field of adventure education, I've had the opportunity to experience and work with hundreds of different facilitators. A handful of them stand alone in their exceptional ability to lead a group to places they never thought they could go in terms of their individual and collective growth. Nicki Hall is one such individual. Her ability to listen, truly listen to each and every person and then develop insights to shape how and why she leads the group in a certain way is a work of art. I've always felt the most important thing a facilitator can do is be genuine, be yourself but… be there for the others, the workshop is never about you. And Nicki makes all this happen with a sense of humility, a quiet competence and never present ego. The depth of Nicki's ability to do this is unparalleled. If there's a Facilitator Hall of Fame, she should be inducted.
Need a Helpful Facilitation Framework?
There are many facets to being an effective facilitator, but the most essential is a willingness to continue learning throughout your professional life and to never stop developing your craft. Over time, we have found our motto: Connect. Empower. Lead…Be the Example, to be a proven and effective guide for our daily work, our reflection on the quality of our programs, and a constructive philosophy that guides the intention of our work, especially as it relates to engaging groups and creating impactful and meaningful opportunities for learning through experience.
If you are looking to go from being a good facilitator to a great facilitator, with a style that is true to who you are, as a person, and your philosophy of life and beliefs, the High 5 Training & Team Development educators have some tips for you:
Tips and Tools to Becoming an Effective Facilitator
1. Watch other facilitators at work. Observe the group's behavior and reactions. Are they engaged? Are they connecting with one another? Is anyone disengaged? How do they create buy-in and inclusivity in ways that are sincere yet barely detectable? Are they using language that empowers and is strength-based? Are you making note of what works and what flops?
2. Take a good look at how you use humor. Do you use it in a way that is engaging, or in a way that shuts people down? Beware of sarcasm! Sarcasm is generally only funny to a small percentage of your group and is frequently regarded as a cloak for the insecure.
3. Practice silence. Watch facilitators you admire and see how long they remain silent after giving instruction, asking if there are questions, or asking for feedback. If you are talking more than 40% of the time in your program, you are probably talking too much. Start practicing staying quiet with family and friends and see how much more you learn and observe!
4. Become Comfortable with Stories. Start by taking some of the traditional or classic adventure games and incorporating stories and metaphors that reflect the nuances, community, or culture of your group. Pay attention to how other facilitators enhance the impact of their lessons by incorporating client-specific stories into their conversation and programming.
5. Maintain a Solid Foundation. Lots of new and 'shiny' ideas come and go—and the best facilitators aren't afraid to try new things!—but they always have a solid foundation upon which they can rely. Sometimes the most traditional, tried and true activities and methods are the ones that have the most meaning for the group.
6. Over-prepare While Remaining Flexible. If you are over-prepared for each program, you will never be at a loss or fumbling when the unexpected crops up. Great facilitators are flexible, skillfully adjusting their activities in response to where the group's behavior takes them.
7. Create a Community of Practice. Seek out other facilitators interested in continual growth and development. Get together on line and share stories, ideas, resources, and key learnings. Take turns watching videos of each person facilitating. And practice giving and receiving feedback at the end of each call!
8. Document. Keep a reflection journal of your facilitation experiences. Note what went well, what was challenging, and what you'd do differently. Use this as your "go-to" resource when creating programs.
9. Read. There are great books and resources available to help you develop your craft. One of High 5's favorite books include "Unlocking the Magic of Facilitation" by Bolger & Killermann.
10. Participate in Professional Groups. Some of the groups that provide educational opportunities for facilitators include AEE, ACA, and ACCT. Doing a presentation to a group of fellow practitioners on a particular activity or program is another great way to polish your skills—start with some of the smaller regional conferences.
11. Never Stop Growing. The best of the best understand there is always room for growth. They are constantly reading, observing, practicing, taking workshops, and trying out new ideas. And they never forget: Connect. Empower. Lead…Be the Example. We are at our professional best when we lead by our own example! To help you get started on brainstorming different professional development opportunities listen to these Vertical Playpen Podcasts for ideas…
VPP Podcast: Ideas for External Professional Development for Facilitators
VPP Podcast: Facilitate More Group Participation
Good speed to you as you find your stride and balance as a facilitator and develop your craft with the goal of helping people work together more fluidly, with more open communication, and a common purpose. After all, facilitation is defined as the process of making something possible or easier. A good facilitator can do just that.
---
You can find more final thoughts on Facilitation in Chapter 3 of our book "Tinker". Whether you have years of experience, or you're just starting out, everyone can benefit from the Q&A session in this chapter. Questions like "What makes a good facilitator?" and "Has being a parent impacted/informed your facilitation, and how?" are just a few of the mind-turning questions presented. Click here to learn more.